Robotics Skills Competitions
During the "Russian Week of Robotics" from December 11 to 15, 2023, GUAP University will host student competitions in the format of Robotics Skills in robotics, in 3 competencies: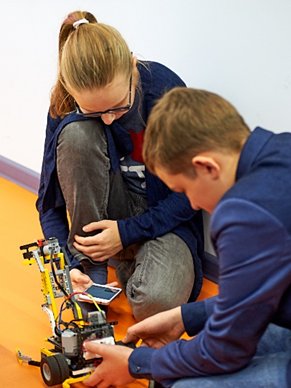 Industrial robotics,
Mobile robotics,
Digital counterparts of robotic production.
The organizers of the Robotics skills competitions are the Cluster "Creonomyca" and the University of GUAP.
We invite everyone to take part in the competition!
Competitions in the Mobile Robotics are organized by the Robotics Laboratory and the Energy Laboratory of the SUAI School of Engineering. Competitions in the Industrial Robotics, Mobile Robotics, Digital Twins & Offline Robot Programming will be held at SUAI (Saint Petersburg State University of Aerospace Instrumentation). During competitions, participants will design, manufacture, assemble, install, program, control and maintain mechanical, electrical and robot control systems, as well as identify and troubleshoot problems in their control systems.
Robotics competitions include tasks on elements of mechanics and computer technology as well. Computer technology used in robotics is digital programming tools for automated robot control systems. Live video broadcasts from the competitions are planned during the Forum.
Visiting these competitions will give an insight into professional skill championships in robotics, an initial vision of future professions, practical forms of training for mastering these professions, and the prospects for innovative development of the robotics sphere.